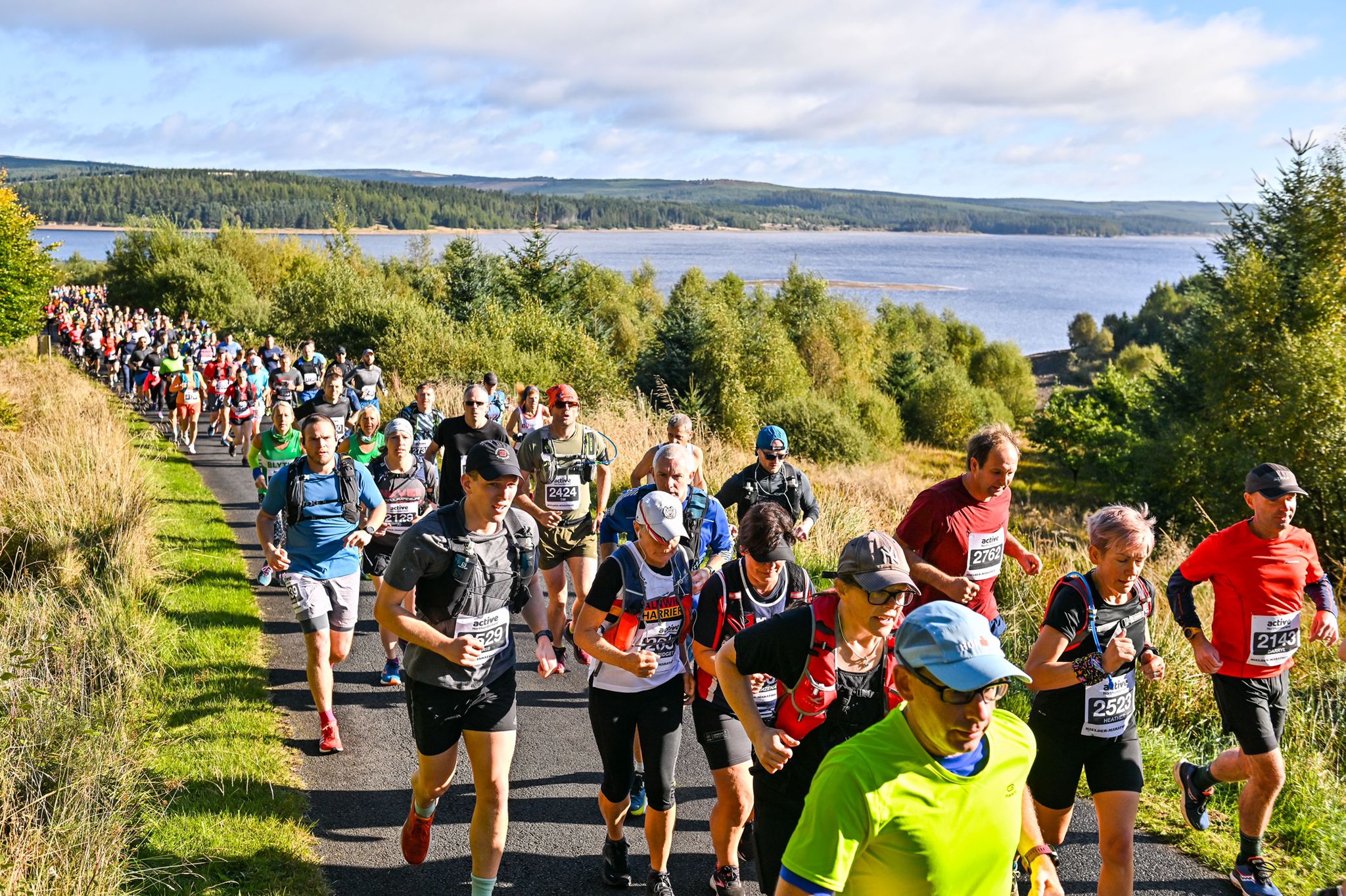 A MARATHON EFFORT AS "BRITAIN'S MOST BEAUTIFUL" RETURNS IN STYLE
Plans for the 12th Active Northumberland Kielder Marathon weekend began in earnest shortly after the eleventh anniversary event drew to a close…
…and today (Sunday, October 2, 2022), 12 months on, in the glorious sunshine, thousands of runners turned out in force to mark the incredible feat.
With more than 1800 runners taking on the Kielder Marathon and Kielder Half Marathon, and a further 83 in the Junior races, adding to those in the 10k and Run Bike Run on Saturday, a total of around 3,000 people took part in the weekend's activities.
The event took place at Northumbrian Water's Landal Kielder Waterside Park, with the backdrop of the stunning Kielder Reservoir.
The Marathon winner was Kyle Greig from Metro Aberdeen Running Club, who crossed the finish line in just 2:45:57.
Last year's winner, Russell Maddams, took the runner up spot with a time of 2:48:03 and Mark Hope came third at 3:01:38.
Debbie Greig was the first female through, in 3:07:12.
Marathon winner Kyle bought his wife, Debbie, who won the female marathon, her place for their anniversary and announced that her gift was to have a 'run around the woods'.
Stefan Szablewski was the winner of the Half Marathon, finishing in 1:15:36 while the first female was Luisa Dorward. She crossed the line in 1:25:50.
Marcus Cram, Race Co-ordinator at Events of the North, said: "It's been a challenging few years globally, and the importance of exercise to people's physical and mental wellbeing has never been more evident. So to be able to bring people together to celebrate the joys of running and cycling has resonated more strongly than ever this weekend.
"As always, this amazing venue in Northumberland is a big part of what makes the event so special. It's been brilliant to see people turn out to take part or to cheer others on, and we hope it's a reflection of brighter days to come. Once again, Kielder has delivered and we look forward to returning in 2023."
The Active Northumberland Kielder Marathon weekend is delivered by Events of the North in conjunction with Northumbrian Water, Active Northumberland, Northumberland County Council and Northumbria Healthcare NHS Foundation Trust.
Mark Warnes, Chief Executive of Active Northumberland said: "It has been a joy to be part of Kielder Marathon once again; seeing people of all ages come together to participate, support and enjoy the many events that run across the weekend, including a wellbeing lakeside walk held on Friday by Active Northumberland.
"The record number of participants shows how the event continues to go from strength to strength to celebrate the country's most picturesque marathon."
David Hall, Head of Commercial Strategy and Transformation at Northumbrian Water, said: "It's been truly emotional to witness the Active Northumberland Kielder Marathon once again at Kielder Waterside. We're extremely proud to be able to provide the perfect backdrop for Britain's Most Beautiful marathon. The weekend creates magical memories for thousands of runners and spectators and we can't wait to welcome people back next year.
"On behalf of everyone at Northumbrian Water, I just want to express my sincere gratitude to everyone who has made this amazing weekend so special."
Northumberland County Councillor, Jeff Watson, Cabinet Member for Health Lives said: "Tourism in Northumberland is bouncing back after the pandemic and it's been a really exciting weekend here at the 12th Active Northumberland Kielder Marathon.
"We've welcomed thousands of participants and their friends and family who have come to cheer them on. We hope they've had a memorable weekend and we can't wait to see you all back again visiting our beautiful county."
Ross Wigham, Director of Communications at Northumbria Healthcare NHS Healthcare Trust, said: "It has been another wonderful weekend here at Kielder and it was great to see so many people taking part in the different events.
"We are proud to be a partner of what is one of the key events each year for Northumberland and the wider region, not least because it ties in with our own efforts around boosting the physical, mental and social wellbeing of our communities.
"I would like to thank all those whose efforts have gone into making the event the success it is and anyone who has supported our Bright charity, with all the money raised going to benefit our patients and staff."
To see highlights from the weekend including pictures, videos and interviews visit Northumbrian Water's Facebook page and Twitter account (@NorthumbrianH2O).
Race information
Marathon
1st male – Kyle Greig, Metro Aberdeen Running- 2:45:57
2nd male – Russell Maddams, Keswick AC- 2:48:03
3rd male – Mark Hope, Heaton Harriers and AC- 3:01:38

1st female – Debbie Greig- 3:07:12
2nd female – Jadwiga Wiktorska- 3:35:08
3rd female – Amy Mckechnie, Queensbury Running Club- 3:39:32
Half Marathon
1st male – Stefan Szablewski- 1:15:36
2nd male – John Butters, Morpeth Harriers and AC- 1:17:47
3rd male – David Holmes- 1:20:09

1st female – Luisa Dorward- 1:25:50
2nd female – Danielle Smythe, Heaton Harriers and AC- 1:27:54
3rd female – Claire Davies, Stocksfield Striders- 1:31:12
Junior Races
Osprey (under 11)
Male
1st Theo Tipping, Radley Athletic Club- 04:53
2nd Jude Mccluskie- 05:03
3rd Callum Owen- 05:06
Female
1st Alice Maddams- 05:27
2nd Emily Eggett- 05:50
3rd Emily Owen- 05:58
Falcon (under 16)
Male
1st Jonas Tipping, Radley Athletic Club- 06:09
2nd Adam Robinson, Elswick Harriers- 06:09
3rd Joe Eggett- 06:41
Female
1st Ellie Fellows, Blaydon Harriers and AC- 06:32
2nd Niamh Adams, Blyth Running Club- 07:36
3rd Martha Thomas, Prudhoe Plodders- 08:32